The Claremorris Colts U11 team headed off on that road made famous by the Sawdoctors to the Sportgrounds on Saturday last with an equal measure of excitement and nerves. Excitement at the thought of meeting their heroes and  nerves about playing in front of  a packed crowd at half-time during the Connacht and Newport Gwent Dragons league game.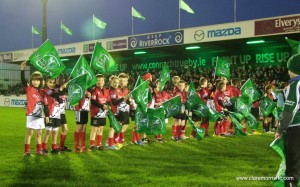 There was plenty of chat on the bus journey to Galway. With some players hoping to meet Dan Parks or Mick McCarthy while others were hoping to score a try on the hollowed turf. As the bus dropped the players and their coaches at the ground the chatting and joking soon stopped as the lads realised they task of playing in the Sportgrounds was getting ever closer. All the players got changed and went through their warm-up with their coaches. Then it was game time.
First up the players had to welcome the Connacht and Dragons teams onto to the pitch which they did with the other teams who would be participating in the half-time games. Once the game was underway the Colts headed behind the goal, watched their heroes up close and waited for their chance to shine. Once the half time whistle was blown it was their queue to hit the pitch. The Colts players stepped onto the pitch and displayed all that is good about Claremorris rugby.  Their game against Oughterard RFC was a superb game of rugby with both teams giving it their all. Before they knew it, the full time whistle was up and it was time to leave the pitch.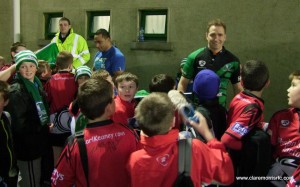 The Colts players bounded off the pitch with a spring in their step after getting their first taste of action of the Sportgrounds pitch. Once the Connacht game was over it was off to dressing room area to try and catch a glimpse of some of the famous names. Dan Parks and Fetu'u Vainikolo duly obliged with photographs and autographs for all our lads.
Then it was time to head back on the bus, swap stories with teammates about tackles they made or tries they scored. It was an excellent evening for our U11 team and no doubt they won't forget about playing in the Sportgrounds anytime soon. A big thanks to Wendy Hickey who coordinated the evening and we look forwards to next year when we can do it all again.