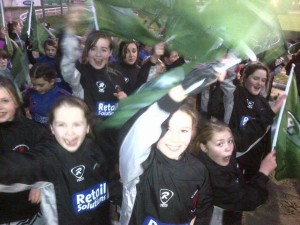 A very excited buch of Claremorris Colts players hit the road to Galway last Saturday as the Colts girls players made their way to entertain the crowds during the Connacht V Scarlets Rabo Pro 12 league game.
The girls had a very busy schedule for the evening as firstly they had to line up on the pitch along with teams from Ballina RFC, Galwegians RFC, Oughterard RFC and Westport RFC to welcome both Connacht and Scarlets onto the pitch. Once this was done it was into the stand to watch their heroes in action and try and pick up some tips before they had their chance to shine at half time.
During the half time break the U10 and U12 teams played their female counterparts to delight of the crowd who come to the Sportgrounds. Once the games were done and dusted it was back to the comfort of the stand to watch the second half of the Connacht game followed by a fun filled bus journey home with chat of tackles made and trys scored.
A bi thanks their coaches Pearse Hahessy, Cathy Freeley and Gemma Phillips who ensured the girls had a very enjoyable trip to the bright lights of the Connacht Sportground.