U16 Girls vs Portumna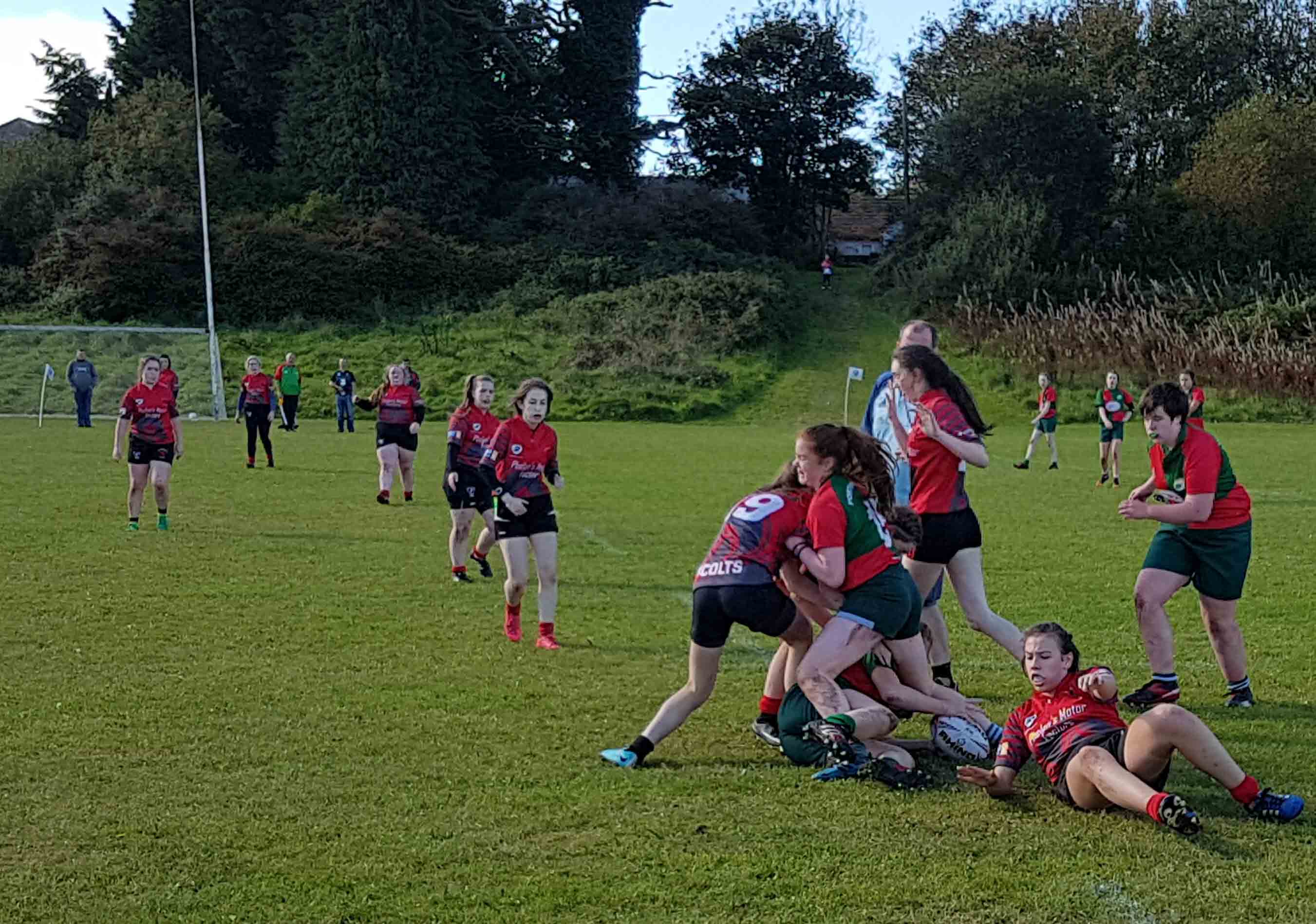 The U16 girls welcomed Portumna to the Convent pitch last Saturday for their league game. On a great day for rugby Portumna started strongly with some good rucking and speed out wide to score first. The Colts girls hit back with a fine try from the impressive Ciara Nyland. Portumna dominated the next period of the game and scored some fine tries and raced into a 19 5 lead. The Colts to their credit stuck to their task and Niamh Corless broke two tackles to score under the posts.  This sparked a come back and the Colts now took control when Jenna Mortimer and Ciara Nyland scored to leave the girls winning at half time 24 19. However, Portumna again dominated the second half and scored some fine tries and kept the Colts scoreless. There were some good performances with Saoise Quinn, Rosie Ganley and Lorna Burke working hard for their team. So a disappointing result for the girls and plenty to work on at training this week .
U14 Girls vs Creggs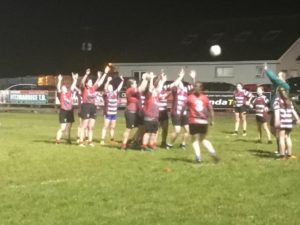 The U14s girls were in Creggs last Thursday evening to play their first league game. They faced a strong Creggs side under lights.  This was a game that neither side dominated. With some very strong runners Creggs made some yards and left the Colts scrambling in defence.  The Claremorris Girls had to work very hard to find the gaps to score. Both  teams traded ties throughout the game . However it was the number conversions that decided the final results and Creggs came out on top from the kicking tee. So, a narrow defeat for the Colts 27 31
U13 vs Gort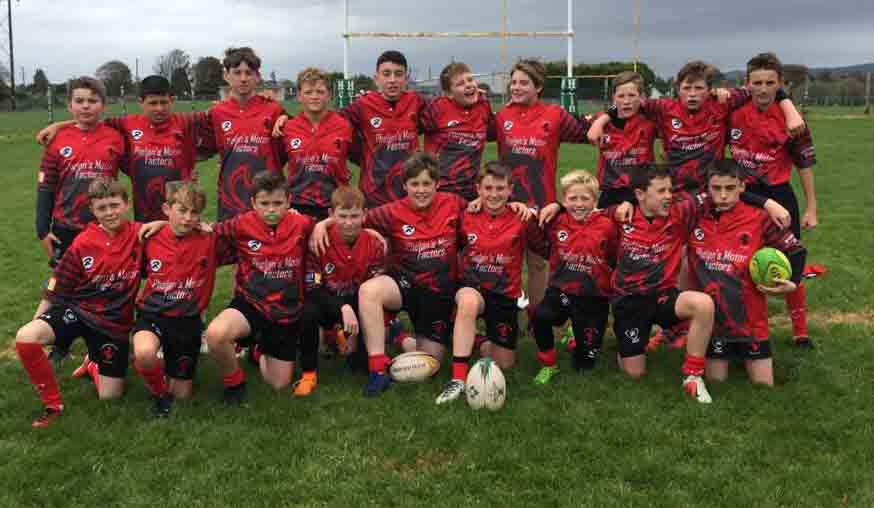 The Colts U13's travelled to Gort on Sunday for their third league game of the season. A try in the first minute by Hugh Langan set the tone for the first half. Further tries in the first half from Conor Prendergast (2), Rio Mortimer, Ben Corless and James Sullivan meant the Colts were 40-0 up at half time. A much tougher second half saw some great defence against a really big Gort pack. Gort got over for 3 tries to The Colts 2, both scored by James Sullivan. Another great performance with the team getting better by the day. Well done to all the lads.
U15 vs NUIG
Colts came away from Dunmore with a hard-fought win today. First out of the block was Luke Colleran who finished off a 40m Jack Creighton break for the opening try. Colts struck again with Brian McWalters powering over from close range. College started to gain a foothold in the game after some sloppy Colts play and were rewarded with a converted try. Colts responded with a converted try, but college rallied to run in 3 tries, 2 of which were converted to lead 24 17 at the break. Strong words and soul searching at half time led to much better effort in the second half. A strong defence led by no.10 Oran McNulty had college on the back foot . Colts added 4 tries and 3 conversions in the second half including a fine long-range effort from Oisin Kilroy. NUIG were tired at this stage but clawed their way back into the game, dominating territory and possession for the final 5 minutes. Colts held their line well but college to their credit closed well with a converted try.
Best on the day up front were Luke Colleran and Jack Gleeson supported by good shifts from Brian Eagney and James Heaney. The pick of the backs were Oran McNulty and Brian McWalters. Oisin Kilroy looked dangerous with ball in hand all day and the latest addition to the team, Tiernan Burke had a great debut off the bench. John Dillon deserves a mention too, returning to the team and coming off the bench to put his hand up for a starting berth. Colts 43  NUIG 31
Minis Saturday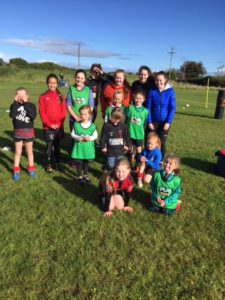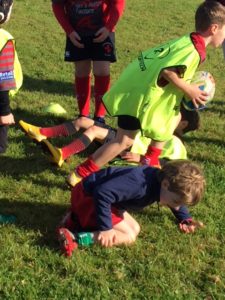 Another sunny day saw some great training from all the minis' teams apart from Girls' U12 and Boys' U10 who were both at a Connacht Aviva Blitz at Corinthians RFC. Having more space meant we could spread our wings. The U12s had a good turn out and we were able to prepare for next week's blitz at Sligo. The U11s too had good numbers, the U9s had less than usual but there is still activity on the Football front as their season winds up. It was good to see so many smiling faces. There was obviously a lot of exercise taken given how the players (and coaches!) descended on the available cake and biscuits like a starving wolfpack.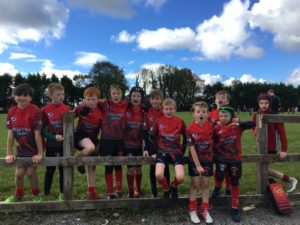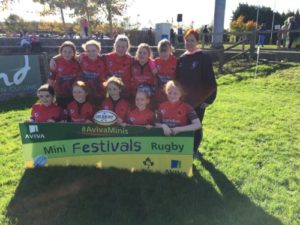 Colts U10s at the Connacht Aviva Blitz
Colts U12 Girls at the Connacht Aviva Blitz
U12 Blitz at Tuam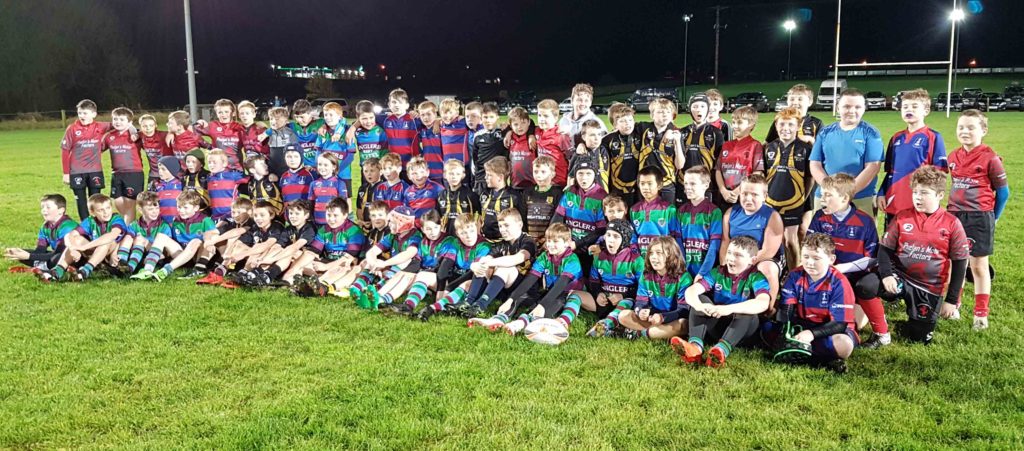 Claremorris Colts U12's had their first Blitz of the season under lights at Tuam RFC on Thursday, there were teams from Dunmore and Corrib as well as the hosts Tuam
The Colts were well attended with a panel of 17 players; everyone got to play in, at least, 2 of the games with some managing all three. There were good performances in all three games and there was some good rugby on show from the both the Colts and their opposition. Our players found the going easier against Tuam and Dunmore, but the very well drilled Corrib team presented many more challenges for the Colts.
There were some very good individual displays and some great moves throughout the 3 matches, but most importantly everyone had enjoyable game time. From a coach's perspective it is very encouraging to see how last year's players are progressing their rugby, and how quickly the new players are fitting in and are displaying their talent and love of the game.