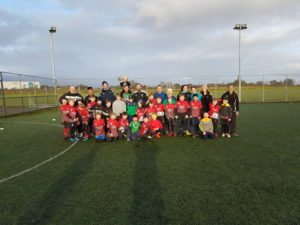 Often training on the Rugby pitch is all about developing skills and building teamwork and, as a spectator, it can seem a bit bland. Occasionally though a combination of circumstances can throw you and the kids a 'bone'. Yesterday was such a day. Everyone was all geared up for a trip to Gort for a Boys Blitz when the dear old Irish weather intervened as it has so often this season – Gort called, pitch waterlogged!
Not wanting to waste a Saturday we hastily arranged training on the AstroTurf. Two sessions – Young ones first, older ones after.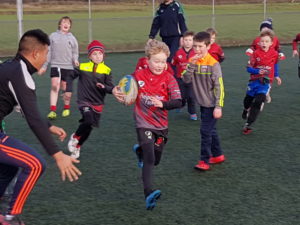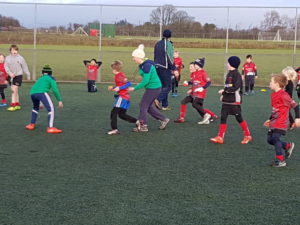 As usual we began with a pick-up game while we waiting to judge the turn out, more kids and coaches arrived, the game grew and the fun developed. By the time we stopped to think we had 10 minutes of the session left so we played on. Coaches against kids (I should say kids against "bigger kids" given the amount of 'glory hunting going on from some of the coaches). At the end we had a group photo and I think you can see from some of the photos just how much fun was had (never mind skill and teamwork)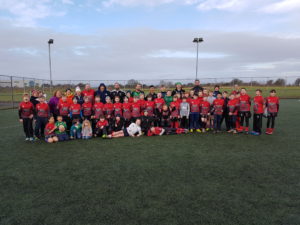 As the second session began and some of the coaches began to tire it became obvious that the new arrivals wanted their share of fun too. No time for the 'Oldies' to give up and lie down. Challenge issued and accepted.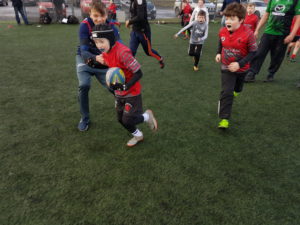 Another hour of pick-up rugby in the finest spirit of the game. We had solo runs, passing out to the wing, tackling, Rucks, Mauls – you name it we had it. By the end we had all scored tries, given long passes, wrestled balls out of the maul, tackled, been brought down, even carried the ball over – and that was just the coaches. There were certainly more smiles than anything else as we finished and the biscuits and sweets were raided.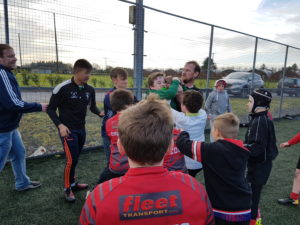 What started as a disappointing day as we missed out on a blitz turned into one long festival of fun rugby. All the coaches, at least, felt full of zest and energy – at least on Saturday, by Sunday this coach at least felt the need for a wheelchair.