Colts U13s vs Buccaneers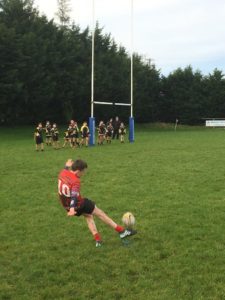 The colts u13's hit the ground running this morning with a very impressive display against Buccaneers on a cold day in Ballyhaunis. A lively start to the game saw the Colts pile on the pressure and were rewarded with 2 penalties which were both converted by Matty Morris who is in fantastic form this season. Liam Walsh ran in a great try to leave the colts 11-0 up at the break.
More of the same in the second half with some joyful ball through the hands saw Liam Walsh score two more tries with Adam Thorthon also crossing the line after a great line break all three converted by Morris. And to cap off a great morning Brian Hett bundled over the line in the last play to seal what was the performance of the season so far special mention for Danny Noone who was outstanding today. As always we had great parental support and our tea ladies Queen Mary, Annemaire, Glenda, Muiresa
Final Score Colts 37-0 Buccaneers
U15 Girls vs Portumna
The first Christmas cracker of the season was served up today when our U15 girls hosted Portumna in the league. The Colts started strongly with great teamwork moving the ball through the hands as they stretched the Portumna defense. Chloe Nevin and Mae Hession were making great yards out wide and they kept the opposition pinned back. The first score of the game came off the back of the scrum when Kaitlyn Mullaney broke quickly and scored. Abbie Ronayne completed the conversion with a fine kick to leave the girls 7 up. The Colts kept up the intensity and this led to a penalty where Aine Mangan tapped quickly and drove through and didn't stop until she got to the line and Abbie Ronayne again got the two extra points. Colts 14 – 0 ahead. Portumna, under pressure, now fought back and forced our girls to tackle and ruck bravely led by Molly Agger Aisling Hahessy and Aoife Meehan. After half time both set of girls went toe to toe . The power, skill and determination was a credit to ladies sports. There was no score in the second half but that didn't take away from a very competitive half of rugby. Special mentions, however, to Saoirse Quinn, Ciara Nyland and Abbie Ronayne who saved certain tries with some savage tackles. Lara Quirke and Laoise Kelly helped by Nicole Mullee Leanne Kelly and Megan Kearns were brave at ruck time. The last 5 min had the Colts defending their try line and it has to be said that the determination and passion and, most of all, the team spirit was inspiring to see.
Final Score Colts 14-0 Portumna