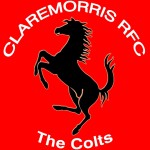 Founded in 2009, Claremorris Colts RFC promotes rugby union in a fun, safe and friendly environment to children, youths and adults in Claremorris and surrounding areas. From humble beginnings, the club now has close to 300 members playing mini, youth and junior rugby in the various Connacht branch sanctioned competitions.
Rugby Teams at Claremorris Colts RFC
Mini rugby (6 to 12 years) for girls and boys takes place at the Convent pitch, Claremont, Claremorris on Saturday mornings. The mini rugby season starts in September and runs through until April. Youth rugby in Claremorris RFC begins at Under 13 age grade. The club has teams at u13, u14, u15 levels competing in the various Connacht underage competitions running from September to April. The club fields an adult team competing in the Connacht Rugby Junior 2 league.  The junior rugby season starts in September and continues through until April.
Tag Rugby at Claremorris RFC
Claremorris Colts RFC also runs a very successful Tag Rugby league over the summer months. The league is running since 2009 and has gained a reputation as being competitive but great fun for all the participants. Tag starts in April and runs through until the end of July. Call Fergal Leonard on 087 694 4669 or Paul Cunnane on 087 661 0968 or use the contact form on this site if you have any questions on Tag Rugby at Claremorris Colts RFC.