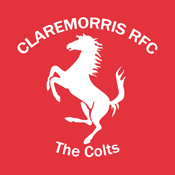 Claremorris Colts RFC was founded in the summer of 2009 and from the onset, the mission of the club has been to promote the core values of rugby – Teamwork, Respect, Enjoyment, Discipline and Sportsmanship to children and young adults in Claremorris and the surrounding South Mayo vicinity.
Claremorris Colts RFC inaugural season began in September of 2009 on a pitch rented from the local Mount St Michael Convent Girls Secondary School. Membership was an initial 89 boys and girls aged from 6-12 years old and these players learnt the game via weekly practice sessions and by playing in blitzes arranged by other clubs within commutable distance of Claremorris. The club participated in three blitzes that year visiting Castlebar, Westport and Ballina Rugby Club's respectively.
Membership rose to over 150 players in the 2010/2011 season with under-13 and under 15 youth rugby teams for boys added to the mini rugby programme established in year 1. Claremorris Colts RFC hosted its first home mini rugby blitz when Ballinrobe RFC and An Ghaeltacht RFC visited the Convent Pitch. The club played in 6 mini rugby blitzes in total. The inaugural Youth rugby season was very successful with the U-13 squad making the plate semi-final and the U-15 team playing in their Cup semi-final. The tag league continued to grow with in excess of 100 male and female players turning out to each week over summer 2010. A formal club committee structure was introduced and charged with the responsibility of managing the administration of the club.
Claremorris Colts RFC's third season commenced with over 200 children registering in September 2011. The youth rugby programme was expanded with U-14 and U-16 boys teams added to the U-13 and U-15 squads. Girl's only mini rugby was introduced and 25 girls had registered to play by the end of September 2011. The mini rugby teams played in 8 home and away blitzes and the youth rugby teams played a total of 29 games over the season.
Claremorris Colts RFC achieved a major milestone in April 2012 when the club won 'Club of the Year 2012' from the Connacht Branch of the IRFU. The award is recognition of the giant strides made by the club in bringing rugby to an area in which, traditionally the sport is not played. Membership has continued to rise with the club currently having over 200 members. We field teams at Mini, Youth & Junior grades.