Minis (Boys) Blitz – Carrick on Shannon

One of our longer trips this Saturday as we made our way along quiet roads to the Carrick Blitz. We had a full compliment od Boys teams with nearly 6o players traveling. Carrick made us very welcome with Tea and Coffee waiting along with paint for the all important 'Movember' mustaches. There was some initial reluctance from a few of the younger players but I think most ended up with appropriate sub-nostril embellishments (Some of us brought our own!). Carrick's pitch had withstood the rain well and was firm and open to good Rugby which was played by all the teams. Well done to all players, coaches and parents. Thanks also to Carrick who were great hosts. Hope to see everybody at training next Saturday.
Minis (Girls) Blitz – Castlebar
Blitz from this morning in Castlebar against and with Ballina Westport Castlebar
Great rugby played and lots of try's by Colts girls both U12 and U10 had enjoyable morning of games played
U16 Boys vs Ballinasloe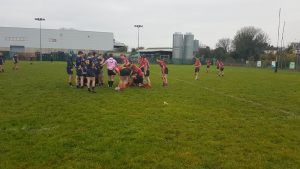 U16 lost 25-17 to Ballinasloe today. It was a great game Nothing between the two teams, with just a bit of luck the Colts could gave taken it. Well done lads all the same!
Final Score: Colts 7-8 Ballinasloe

Juniors vs Galwegians @Galway
Match report to follow