Colts U13 Girls Blitz in Sligo

Claremorris Colts U13 girls had their first Blitz of 2018 in Sligo. The blitz was played on Sligo's new pitch which was in perfect condition considering all the rain that fell. Our young ladies braved the elements to put on an outstanding performance against our first opponent Ballina.
The first try came from a team effort in which a tackle from Isobel Phillips and a steal from Lisa Prendergast allowed Ruby Phillips to score her first try of the day. Alana Fitzpatrick was next to score running onto a fine pass from Saoirse Quinn. With great team work Lisa Prendergast got Grainne Hahessy over the line for a try. Ballina put the pressure on and scored the first of three tries but the Colts stuck to their running game which saw Siomha NcNulty score another fine try. From the next scrum the ball was over through the hands to Siofra McNulty who sprinted the 3/4 length of the field for second try. The girls closed out the game in some style, first with another fine try from Alana Fitzpatrick and finally Ruby Philips ended the game as she started it, with a try.
Sligo came next and so did the heavy rain. Sligo started strongly, with a fine break from a scrum they scored first. With colts passing on target Claire Langan and Elizabeth Byrne were bringing the play to the opposition. The Colts won a lineout and a pass found Lisa Prendergast who leveled up the score with a fine try. Saoirse Quinn dug deep and pushed through the defensive Sligo to add to her try count. Then from a great counter ruck Alana Fitzpatrick scored another try .
So a great display of rugby from all three Teams. A big thanks to Sligo for hosting the games.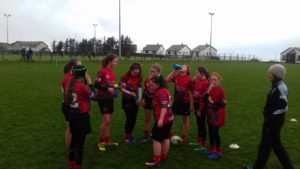 Colts U14 Boys vs Ballinrobe
Colts U14s were reduced to playing playing kick tennis with Ballinrobe after the referee refused to play the match on Saturday owing to a wet pitch. There doesn't see to be a record of the final score.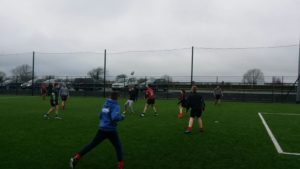 Many thanks to Ballinrobe RFC for their very best efforts and kind hospitality.