U15 Girls vs Portumna (League semi-final)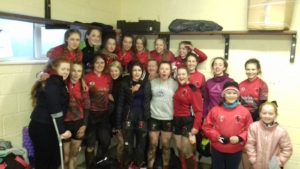 Claremorris Colts U15 girls welcomed Portumna to Dunmore for the league semi final on Saturday. The early part of the game saw both sides test each others defenses. They traded blow for blow with some fierce tackling and rucking with Leanne Kelly, Megan Kearns and Rosie Ganley working hard. The teams were well matched and scores were hard to come by, however, the Colts started to move the ball out wide to stretch Portumna. Chloe Nevin, Mae Hession and Meabh Delaney were starting to find holes and were making good yards out wide. Towards the end of the half the Girls launched an attack led by Aine Mangan who carried strongly all day, Lara Quirke helped by Molly Agger and Aisling Hahessy were rucking well, this forced Portumna to give away a penalty just in front of the posts which Abbie Ronaynne slotted over. So the Colts were leading at half time by 3.
The second half saw our girls grow in confidence. They started to move Portumna around the pitch as well as finding gaps to run into. The first try came from great team play, Mae Hession and Aoife Meehan combined well to allow Meabh Delaney to touch down at the corner flag. This was a tough kick for the extra 2 points but Abby Ronaynne with a perfect contact and the power to carry it, slotted the conversion. This score built momentum and gave a huge lift to the Colts and it wasn't long before they were attacking again. Ciara Nyland passed to the impressive Nicole Mullee with a powerful swerving run who touched down and Abby Ronaynne popped over the kick. Nicole Mullee was central in the next score when she drove at the line, Kaitlyn Mullaney with quick reactions picked and scored under the posts. The Colts gave some of their younger players a run with Ruby Philips and Grainne Hahessy seeing some action.However Portumna, to their credit scored in the last act of the game. A big thanks to all our supporters and a special mention to the parents who changed their plans to get the girls to the game on time.
Final Score: Colts 24 – 5 Portumna
Minis Blitz at Tuam
It was refreshing to be able to get a Blitz for all the Boys teams after the poor weather we have had recently. Thanks to Dunmore for hosting it. There were teams from Monivea, Tuam and Dunmore as well as the Colts.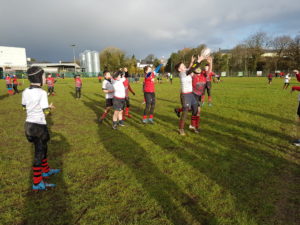 U11 played Monivea first in what was a replay from last week. The Colts had finished last week well and manged to start in similar fashion with some incisive running and good passing. Monivea had their moments but you could feel the passion from the Colts team. Great running from Liam Smith, Dylan Gormley,Tadhg Feerick, Mikey Kearney and Ronan Hett.
The second game was against Dunmore with a couple of our subs evening up the numbers for a sparse Dunmore side. This was a different type of game and the Colts struggled a little to adapt but they still scored some great tries and everyone enjoyed their games.