It was not quite Christmas eve but we certainly could have done with Rudolph as it was a very foggy affair as we made the trip to Castlebar in round 5 of the Connacht U17 League.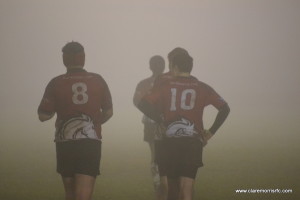 A thick fog had descended as kick off got underway with visibility certainly having an impact on the game. It was the home team who started the brighter with centre Thomas Mannion executing a perfect kick and gather before touching down after just nine minutes. Luckily for Claremorris the resulting conversion came back off the post. It was Claremorris out-half Jack Vahey who got us back into to the game. After some fine play by centres Luke Osbourne & Danny Barry, Vahey cut through the Castlebar defence to touch down under the posts. He also added the bonus points for a 7-5 lead.
As the half time whistle approached Castlebar got back in front. Again it was down to centre Thomas Mannion who brushed aside some poor Claremorris tackling for his second try of the game. This put the home side in front 10-7 at half-time.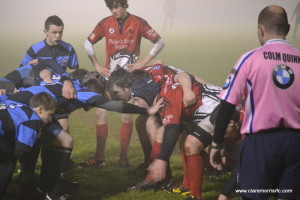 The fog had got considerably worse as the second half began and this made playing conditions even harder. Two quick fire tries from Claremorris as the half began put them back in control. The first was a forwards affair. After some fine mauling work the Colts touched down in the corner. The next was down to some fine individual work by centre Luke Osbounre, who side-stepped through before getting the score. Jack Vahey added both conversions to leave it 21-10 to Claremorris.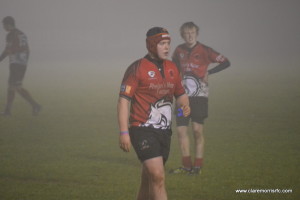 Although behind Castlebar redoubled their efforts and were back in front within 10 minutes.  Both tries were converted and Castlebar were now in front 24-21 going into the final 8 minutes of the game. The Claremorris forwards had been doing well all night in particular Liam Murphy and he got the try his performance deserved with 5 minutes to go. Claremorris full-back & captain Shane Ruane then added a drop goal to give his team a 29-24 lead with minutes to go.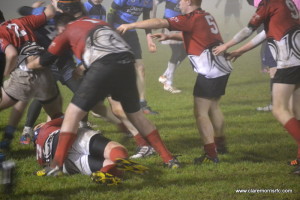 All Claremorris had to do was run down the clock but after winning a scrum in their own 22' Castlebar broke down  field and scored to tie the game 29-29. Then with the last kick of the game out-half Paul Walsh kicked the winning score from the conversion to give his side victory 31-29. It was tough for the Colts to take but they can take pride in their performance with special mentions for backs Luke Osbourne & Jack Vahey and the always reliable forwards of Tom Browne and Liam 'Larry' Murphy.
*A big thanks to Willie Murphy for providing the excellent photos.
Team: S. Ruane, P. Barry, D. Barry, L. Osbourne, C. McTigue, J. Vahey, S. Murphy, A. Ronayne, J.Cooley(C), C. Ryan, J. Ruane, E. Slattery, D. O Brien, T. Browne, L. Murphy
Subs: S. Baral, S. Gilbert, P. Breakell,