It's finally here, the Christmas break has arrived, which also marks the mid-point in our season. We have just one game left to play before we can kick back and relax.
The U14's were the only youth team in action last weekend. They kept their winning run going as they had a fine win over a tough South Sligo. Our boys made a flying start and were 19-0 up at half time. South Sligo were much improved in the second half and got back into the game with a well worked try. This was the jolt our boys needed as they ran out 39-7 winners. The U14's have now secured top spot in the Division and are guaranteed a playoff place which will decide the overall league champions. There are two rounds left before the playoff games are played.
The U17 team will wrap up 2012 by playing Castlebar in round 5 of the U17 Connacht league on Thursday night. We are currently in second spot in the table with the top two teams going into the semi-finals where they will playoff against the top two from the south Division to decide the league champions.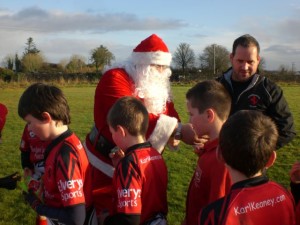 The mini rugby season for 2012 finished with a bang as Santa Clause paid a visit to mini rugby training on Saturday morning last. Santa was a huge hit with all the players and coaches. He even handed out sweets and drinks to all the players. We will like to thank Santa for taking time out of his busy schedule to pay us a visit. We would also like to thank Ryan's Londis in Milltown for sponsoring all the sweets and treats that were given out by Santa during his visit. Our mini rugby season will resume on Saturday January 5th with training at 10am. While also on the 5th our U11 team will make the trip to Galway where they will play at half time during the Connacht V Dragons Rabo Direct league game.
For the next few weeks we will be concentrating on Christmas. The club shop will also be open on Saturday 22nd from 12-3pm for those last minute stocking fillers.