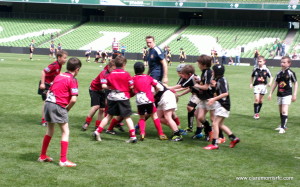 We'll have another busy morning of mini rugby this Saturday October 28th as all our boys rugby teams(except U10's) are off to a blitz in Creggs RFC. The Boys U10's will have a Connacht Aviva blitz in Corthians RFC
We will be car pooling to Corinthians leaving the square in Claremorris at 9am. Can all mini rugby players be in Galway. The blitz will finish approx 1pm. The pitch is located on the main N17, 4km from Claregalway.
We will also be car pooling to Creggs leaving the square Railway Station car park in Claremorris at 9.30am. Can all mini rugby players be at Creggs Rugby Club for 10.15am. The blitz will finish approx 12pm. The pitch is located in the middle of Creggs village. Full directions are here. All players are encouraged to attend.
All the Girls U10 & U12 teams have the morning off and return to training on Saturday 4th November.
Please ensure your child has their gumshield as the NO GUMSHIELD NO PLAY rule will be strictly enforced. We would be grateful to any parents who can help bring players to Creggs or Castlebar as some players may need a lift.
For information on any of the above contact the mini rugby coordinator Robert Campbell on 087-7411619.